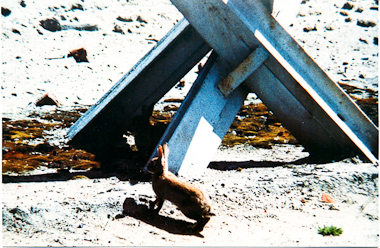 Rabbit à la Berlin is the story of the thousands of wild rabbits that lived in the Death Zone of the Berlin Wall.  It was as if the green belt between the two walls was designed for these animals.  Full of untouched grass, the predators stayed behind the wall and the guards made sure no one disturbed the rabbits.  They lived there for 28 years, enclosed but safe.  With the fall of the Wall in 1989, the rabbits had to start living by their wits again.  Rabbit à la Berlin is an allegorical, self-described "nature documentary about socialism" which brings together the history of Eastern Europe as seen from the rabbits' unique perspective.  Nominated for an Oscar in 2010 for Best Short Documentary. www.rabbitalaberlin.com
Why Rabbits?
When we first learned from Marcel Łoziński that thousands of rabbits had lived right up against the Berlin Wall, as if in paradise, we thought that this would be an opportunity to recount the history of Eastern Europe from a different perspective: from the viewpoint of the rabbits.  In other words, those citizens of socialism whose concerns were confined to their own backyard, who never stuck their heads over the battlements and who tried to live normal lives under a state-controlled system, like our grandparents and relatives, like many people we know.  For them, the collapse of socialism and the stark necessity of starting to live of one's own accord was a challenging experience.
In this film, what we want to look at is freedom and security.  Achieving a proper balance between the two is difficult.  When we enjoy a state of security, then we begin to lack freedom.  When we acquire freedom, then we moan about the lack of security.  It is impossible to have both these values at one and the same time.  And yet we never stop seeking the golden mean.
Bartek Konopka (Writer/Director) and Piotr Rosolowski (Writer/Cinematographer)