Reel Shorts 2013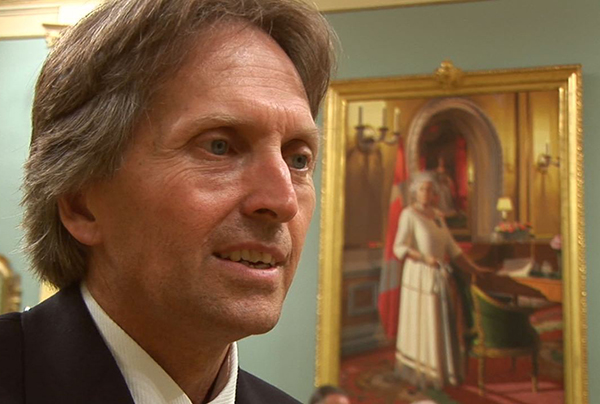 From the techniques he used to conceptualize and plan the painting to its unveiling at Rideau Hall in 2012, this fascinating documentary reveals the creative process of Canadian artist Phil Richards who was commissioned in 2010 to paint a life-sized portrait of Queen Elizabeth II in celebration of her 60 years as monarch. Won Best Documentary at the 2013 Canada International Film Festival in Vancouver.
In collaboration with the Art Gallery of Grande Prairie, Phil Richards will be doing a Q&A after the screening as well as a free Artist Talk and Portraiture Master Class at the Art Gallery on Saturday, May 4.
Phil Richards studied at the Ontario College of Art, graduating with his AOCA in 1973. Since then, he has worked full-time as a visual artist.
Richards has exhibited commercially since 1969, with numerous one-man and group shows in Canada, the United States and Europe. Since 1981, the Mira Godard Gallery in Toronto has been his principal dealer. Richards works in a variety of genres including large-scale murals, figure paintings, landscapes, still life, and portraiture. He also works in a variety of media: acrylic, casein, watercolour, graphite and sculpted relief.
Over the course of his career, Richards has been featured in a number of documentaries, the first being a full-length NFB film, Off the Wall by Derek May in 1980. Three films were completed in 2012 concerning the painting of the Diamond Jubilee portrait. The NFB film, The Portrait, is a short documentary by the Oscar-nominated director Hubert Davis which aired on CBC in January. This film will screen as part of the Artist Talk at the Art Gallery of Grande Prairie at 1:30 pm on Saturday, May 4.
Montreal-based filmmaker Ninon Larochelle's full-length documentary, Elizabeth II and Canada, a portrait, and her short documentary, A ROYAL COMMISSION, both feature Richards. A ROYAL COMMISSION will screen in the A Woman's Place film package at 6:30 pm, Thursday, May 2nd and 11:00 am, Sunday, May 5th. It won Best Documentary at the 2013 Canada International Film Festival in Vancouver.