Reel Shorts 2011
28:00
USA/Cambodia
2010
Khmer (English subtitles)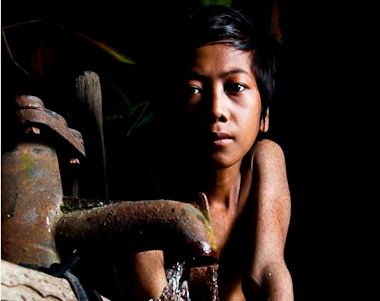 He is just 15 years old, but Vinh has already accepted his destiny – to be sick for the rest of his life with incurable arsenic poisoning. He dreams about going to Phnom Penh, becoming a karaoke star, and winning the affections of adoring fans. But his body is scarred by illness, and he expects the arsenic will soon take his life, like it did the girl who once lived across the road.  An unexpected chance to star in a local karaoke video gives Vinh the chance to live his dream. Won Best Documentary at Aspen Shortfest.  www.bornsweetfilm.com
Director's Statement
With Born Sweet, I decided to turn the typical documentary on its head by taking a standard social issue storyline and reworking it into a coming of age story. The film took this course quite naturally after meeting Vinh and his family in Prek Russei, Cambodia. Despite his being very sick with arsenic poisoning, Vinh's story was the story of any fifteen-year-old boy trying to navigate the diffcult transition between being a child and growing into an adult. His situation may have been exceptional, but his tale was universal.
Despite being shot on video, we chose to give this documentary a filmic quality to highlight the beauty of Cambodia and bring the audience fully into the experience of the village. Using an adapter and 35mm still camera lenses, we were able to give the documentary a rich visual feel normally reserved for true film stock. This was an intentional departure from my previous work, which rested firmly on gritty verité.
I first heard about arsenic in Cambodia's well water from a radio story on National Public Radio. I had been actively looking for my next film topic, and when I heard the words "karaoke" and "arsenic" in the same sentence on the radio, I had an instant sense that this was going to be my next film.
Originally, the film was going to be a profile of Mickey Sampson, the American Chemist who had identified much of the arsenic in the wells in Cambodia, as well as his unconventional approach to sharing health information to rural Cambodians via a roving karaoke truck. Mr. Sampson enthusiastically invited my team to Cambodia, and soon after, I was able to secure funding for an initial shoot through an independent third party, The Teach Green Charitable Foundation. Tragically, the day that we were leaving for Cambodia, Mickey Sampson died unexpectedly of a heart attack at age 43. The world lost a great and creative man, and we lost the opportunity to make a film about him.
The more I thought about Mickey, the more I felt compelled to make a film that would capture his legacy. This new film, however, would be told from the perspective of a child in an arsenic village. In 2009, I traveled to Cambodia three times. The first research trip included traveling to many remote locations. On one of the last days, I met Vinh, the main subject of Born Sweet and knew that he was the right subject and voice for the film.
We shot the film between June and September of 2009, comprised of two additional trips where the crew lived in a traditional Cambodian house on stilts. We brought water, generators, drivers, cooks, mosquito nets and lots of film equipment, and I pushed the crew to experiment visually. We gave in to the rhythms of village life. It was a refreshing and freeing experience to allow the art form of filmmaking to take precedence over a typical documentary storyline.