Reel Shorts 2011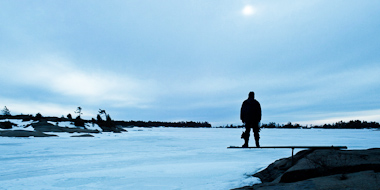 Presenting Sponsor:  Velocity Video
An alcoholic transient, with only his dog for a companion, steals from summer cottages during the brutal winter of the off-season.  When he ventures from his usual path in search of a full bottle, he makes a terrifying discovery that unravels his solitary existence.  Nominated for the 2010 BAFTA Award for Best Short Film.
Director's Statement
Off Season was made over the course of seven days in February 2009.  The filmmakers and crew filmed on location in Go Home Bay which is in the Georgian Bay region of Ontario.  Long snowmobile rides across vast stretches of frozen lake in the blackness of night and -25ºC temperatures were only some of the many hardships they had to overcome in the process of making this film.  It was an adventure in the truest sense of the word and a testament to the mettle of its highly professional and dedicated cast and crew.