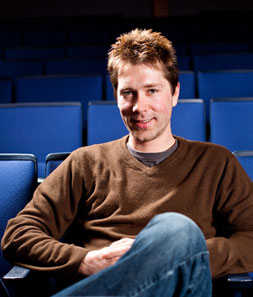 Michael graduated from the 2-year Interactive Digital Design program at Grande Prairie Regional College in 2010. He is the owner/manager of Ground Up Audio Video Production in Grande Prairie which produces corporate orientation and safety videos for an oilfield services company. He also produces music videos and records, mixes, and masters albums for local bands.
He has been a leader of the Youth Filmmaking Challenge workshop since the first one in 2009 and helped lead it for the 4 years it was offered. During that time, 11 short films were created. They can be viewed here. The popular workshop was retired after the 2012 festival and replaced with more ambitious training programs: the 2-week Shoot for Reel internship program in July 2012, and the 8-week Youth Film Mentorship Project which will lead up to the 2013 festival.
The 2013 festival will feature the world premiere on opening night of The Horizon Project, the short film created during the Shoot for Reel internship program. Michael was Associate Producer.