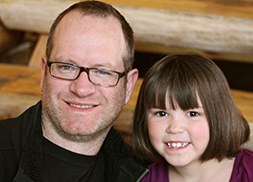 Rio's first two films (DAYDREAM and A DAY OF HUNTING AND GATHERING) screened at the 2010 Reel Shorts Film Festival. Daughter Billie also started in DAYDREAM.
Rio's award-winning film The Driving Accident has screened at many film festivals around the world including the 2011 Chicago International Children's Film Festival which is widely recognized as the major festival of films and videos for children in North America. It won the Audience Award at the 2011 KidsFilmFest in Brooklyn and the Children's Jury Northwest Prize at the 2012 Children's Film Festival Seattle, among other awards.
Rio's fifth short film, Found a Peanut, is based on the old camp song of the same name. If you have heard the tune, you may have wondered why someone would have eaten the rotten legume. This comedic adaptation of the song's narrative answers that question.
Rio has spent quite a lot of time learning and refining this craft, and experimenting with a wide variety of subjects, but currently focuses mostly on short comedies for and about children.
The Trap is Rio's sixth short film and stars his eight-year-old daughter Billie who was seven at the time the film was made. This is the fourth year in a row that Rio has had a film in the festival. It screens in the Flights of Imagination film package. Rio and Billie will participate in a Q&A after the screening. It also screens in the North Peace Encore package after which Rio will participate in a Q&A.