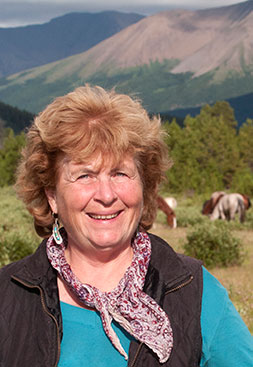 Susan is an accomplished life-long photographer and entered the world of cinematography in 2005 when her film was featured on APTN's "Road Scholar" and a year later on "The Link". She was excited when she saw her work on primetime national TV and decided to embrace the world of filmmaking.
Susan is a graduate of the Serac Adventure Film School which was held in Vale, Colorado under the instruction of Michael Brown. Smitten by Brown's amazing skill, Susan attended the 2008 and 2009 Banff Adventure Film Seminar and studied under two world-renowned film producers: Michael Brown and Keith Partridge.
As a resident of Grande Cache, Susan has authored three books about the people and peaks of the Canadian Rockies. She is the Executive Director of the Willmore Wilderness Foundation / People & Peaks Productions and is currently mentoring four film students who are on work experience. Susan also serves on the Board of Directors of Women in Film and Television Alberta.
Susan has produced corporate movies and short vignettes since 2007. She has also produced three documentaries: Long Road Home, Wildie, and Women of Willmore Wilderness. These documentaries are part of the People & Peaks Productions Canadian Rockies Series. LONG ROAD HOME premiered at the 2011 Dreamspeakers Film Festival in Edmonton. WILDIE has been nominated for five AMPIA Awards in 2013. Women of Willmore Wilderness is in the A Woman's Place film package. Susan will participate in a Q&A afterwards.