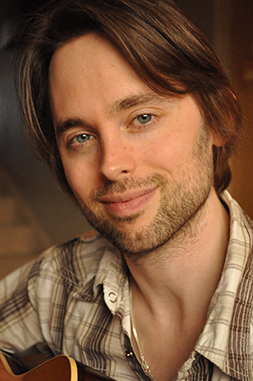 Chris McIntyre is a classically trained guitarist who enjoys composing and performing in many genres and styles. His interest in technology and audio engineering has served him over the years in creating his own music, as well as engineering and producing music for others in his private studio under the name CDM Audio Productions.
While Chris has been writing music for much of his professional career, it was in 2012 that he had his first chance to compose an original score for the festival-produced short film The Horizon Project directed by Scott Belyea. That experience led to some short commercial projects, as well as his next film score for Director Trevor Addie on the short fan film CROFT.
Having caught the "film bug," Chris continues to look for other projects to work on which has led to composing scores for three of the short films in this year's fest: Outside the Lines directed by Scott Belyea, COME TRUE directed by Keith Lawrence, and The Device directed by Chris Beauchamp.
Chris is equally at home composing synth generated ambient scores, as well as more traditional orchestral work and hybrid scores using combinations of instruments and synths. Chris continues to perform, compose, teach, and produce musical projects in Grande Prairie at his home studio. He hopes to get the chance to work on some large-scale projects, including a full-length feature film or television series.
Chris will participate in the Q&As after the three films for which he was the composer: The Device in the Travel Exchange package at 8:45 pm on Tues, May 5, COME TRUE in the Altered Reality package at 6:00 pm on Wed, May 6, and Outside the Lines in the A Criminal Act package at 8:45 pm on Thur, May 7. All three films will screen again in the Peace Region Encore package at 6:00 pm on Sat, May 9.