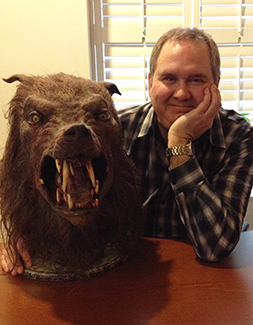 Brian Morey is a 20-year veteran of the Canadian film and television industry during which time he has been a writer, story editor, development executive and hand model. He got his break as story editor on Blood & Donuts which, contrary to popular belief, is not a shocking, behind-the-scenes look at coffee shop working conditions. This was also the film where Brian's hand was first used in an insert shot.
Brian attended the Canadian Film Centre's Writers' Lab in 1998 and its Professional Screenwriting Program in 1999. Also in 1999, he wrote When She Comes Back, a short film that was produced under the CFC's Short Film Program. His education was further enhanced while participating in the National Screen Institute's feature film program in 2002 with a script he wrote entitled Near Death. The fact this magnum opus has never been produced remains a gaping, festering wound on the body of world culture.
In between bouts of professional development, Brian had a few feature scripts optioned including LOVESICK (49th Parallel) and STRAIGHT SHOOTERS (producer Miranda de Pencier). He was also hired to write an adaptation of Owls in the Family, Farley Mowat's classic children's book, which received development assistance from Telefilm Canada and the Harold Greenberg Fund. The fact that none of these movies has been produced (yet) is solid proof of the "genius destined to go unrecognized in his own time" principle. Probably. Brian wrote three teleplays for the Canadian television series Paradise Falls that actually did manage to see the light of day.
Having grown weary of the glamour, easy riches and ecstatic public acclaim that is the inevitable reward of Canadian screenwriting, Brian joined the ranks of Copperheart Entertainment in 2008 as Head of Development for both feature film and television. During his tenure, films such as Young People F**king, Splice, Haunter (once again Brian's talent as a hand model was utilized), 388 Arletta Avenue, Wolves, and Debug managed to get made despite his best efforts to thwart them creatively. He was similarly unsuccessful in quashing Darknet, a half-hour horror anthology TV series first broadcast on Super Channel and now available on Netflix. Look for A Christmas Horror Story, Copperheart's most recent feature film, to ruin your seasonal holiday in 2015.
In addition to serving on the jury, Brian will be a panelist on the hour-long Filmmaker Insights Panel 2: Moving on Up – Turning Short Film Success into a Feature Debut.