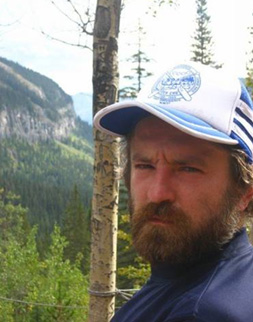 Andrew's interest in marginalized populations stems from a longstanding passion for exploring the human condition, a passion which has taken him to locations all over the world. As a physician, he has considerable experience working in remote, under-serviced communities in Canada and abroad.
Prior to writing and co-directing Sisters of Karnataka, Andrew spent two months in Karnataka, India, working on the Corridors Project. This joint effort of the University of Manitoba and local Indian NGOs provides support to sex workers in the area. He was fascinated by that experience and the stories of the women he encountered. Since then, he has volunteered as a physician in Cambodia with M'Lop Tapang, an organization geared towards getting street children out of the sex trade.
Andrew has published nearly a hundred articles in the popular, student, and academic press. The idea to become involved in a documentary project came from the sheer power of the visual images he saw while traveling and volunteering overseas. Andrew has won several awards, most recently the Mimi Divinsky Award for Narrative in Medicine in Canada. He is working on a new novel.
Andrew will participate in a Q&A session after Docs in a Row (1:30 pm, Saturday).