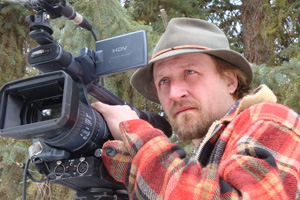 After 17 years as a self-taught exhibiting visual artist in mixed media sculpture, painting, and photography, Karl began his foray into filmmaking six years ago and has completed four video projects to date. Â A resident of Rolla, BC, his work has shown throughout North America as well as in select places internationally such as New Zealand and India. After years of self-development in the arts, video has become his passion.
Karl is the director of Sisters of Karnataka which has its Alberta premiere at this year's festival.  It's a documentary about a peer counseling project called Corridors which operates in partnership with sex worker collectives to ensure access to HIV-related education, condom provision, and high quality clinical services for more than 13,000 sex workers in Karnataka province in southern India.  As part of an inconspicuous two-man crew along with Co-Director Andrew Lodge, Karl was able to gain access to the inner workings of brothel life aided by friend and guide, former Karnataka native Shiva Halli who helped to create the Corridors project.  The intimate filming of the Sisters of Karnataka was a harsh education that altered how he views his everyday life.
Karl will participate in a Q&A session after Docs in a Row (1:30 pm, Saturday).