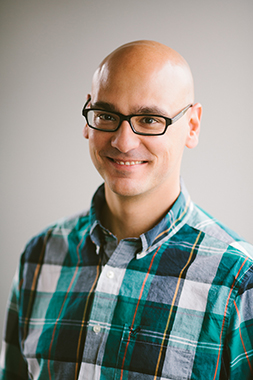 Chris Beauchamp is a photographer, writer, and filmmaker based in Grande Prairie, Alberta.
Since 2013, he has written, directed, and produced several short films, including the Frantic48 award-winning films DATING BITES and The Souvenir (both with Gordie Haakstad). He was the cinematographer on Sophia, written and directed by Rory Mells in 2013, and Cold Decision, written and directed by Gordie Haakstad, which screened at the 2015 fest. He was a producer and the cinematographer on Susie Winters' upcoming short film CURRY FAVOUR which filmed in Wembley, Alberta in 2015.
Chris is an active member of the northern Alberta arts community, serving on the boards of PRIMAA (Peace Region Independent Media Arts Association), AMAAS (Alberta Media Arts Alliance Society, and the Reel Shorts Film Society.
In 2016, Chris plans to promote the short comedy Smooth Moves (co-written and co-directed with Cris Seppola-Podsada) on the festival circuit, as well as The Device, a dystopian drama he wrote and directed as part of the Reel Shorts Screenwriting Competition in 2013.
Chris and Cris Sepoola-Podsada created Smooth Moves as part of their coursework for a video production course taught at Grande Prairie Regional College by Gordie Haakstad. It screens in the Could Be Love package. The Souvenir screens in the "a href="https://reelshorts.ca/packages/psycho-shorts-and-pizza-party-2016/">Psycho Shorts package. All foru Peace Region films can be seen in the Peace Region & Guest Encore package when the award for Best Peace Region Short will be presented by Decca Industries.