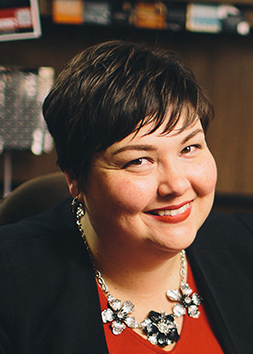 After many years of dabbling in photography, Cris Seppola-Podsada was introduced to filmmaking through her company, communications agency nine10 Incorporated.
Her first experience of being on set was during the Arnie the Viking campaign with Hansen Ford Lincoln in 2013. From there, she began to volunteer on other filmmakers' personal projects including the Frantic48 Film Challenge in 2014 and 2015. When not involved in filmmaking, Cris works with her team at nine10, speaks at Toastmasters, engages with various community boards and organizations, and relaxes with her husband Richard and whippet Olive.
In September 2015, Cris began attending the Introduction to Video Production class through GPRC (Grande Prairie Regional College) taught by Gordie Haakstad. The class was tasked to create three dialogue-free films. The third film was a combined project, where she and fellow classmate Chris Beauchamp shared the same set and story but shot from two different people's perspectives. While these films were submitted individually for the class, Cris and Chris combined their shorts and created Smooth Moves which screens in the Could Be Love package. All four Peace Region films can be seen in the Peace Region & Guest Encore package at 6:30 pm on Sat, May 14 when the award for Best Peace Region Short will be presented by Decca Industries.