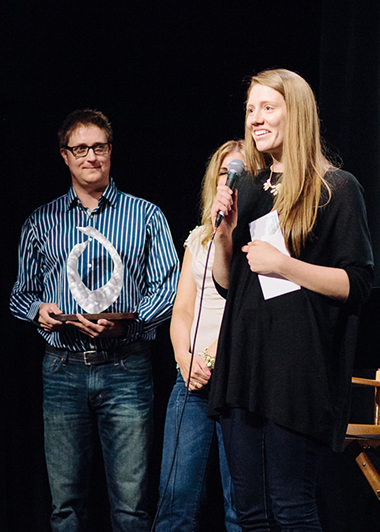 Congratulations to Susan Winters who won SCaMP, the Screenplay Competition and Mentorship Program, with her screenplay entitled Little Thailand! She is shown here at the Sneak Preview on Sunday, Sept 28 after Grande Prairie Live Theatre Board of Directors President Sandra Pippus (standing behind her) presented her with a $500 cheque and an award held by Gordie Haakstad who judged the competition (photo courtesy of Laura Beauchamp of Beauchamp Photography). The award was designed by Grande Prairie sculptor Grant Berg and made by Decca Industries in Clairmont with a base made by Grande Prairie firm D.R. Sales Woodworking.
The audience had the opportunity to hear Susan's screenplay during a table-read performance following the award presentation. Thanks to Gordie for casting and directing it, and to the talented actors who made the script come alive for the audience!
Travis Fowler as Narrator
Monty Haughian as Pastor Terry
Mckenzie Cox as Lyla
Joy Dunn as Ruth
Margo Hervieux as Mrs. Apostle
Gayle Williams as Mrs. Lintick
Susan also won $2,000 towards production costs to make the short film as well as mentorship from Gordie during the filmmaking process. As a SCaMP finalist, she received screenwriting mentorship from Scott Belyea during the process of revising her screenplay. When asked about the revision process, she replied that "Scott's feedback was encouraging and critical. His advice motivated me to make big changes to my work and I'm glad I had the opportunity to learn from him."
The third-year University of Victoria student is studying screenwriting as part of her double major undergraduate degree in Writing. Susan was a Peace Region resident from 1994 to 2003 when she lived in Nampa which is 27 km south of Peace River. As a past Peace Region resident, she was eligible to submit her screenplay to SCaMP and found it to be "an amazing opportunity. There aren't a lot of screenwriting competitions, so such a program devoted to the Peace Region is an amazing asset. The mentorship aspect was a great way to push the level of work produced. Also, I can't think of a more welcoming community of artists than those involved with the Reel Shorts Film Festival. I think that hearing from so many voices in the film industry has definitely improved my skills as a writer, and motivated me to keep crafting screenplays. I can't wait to experience filmmaking in the Peace Region in the future."
Susan's screenplay was one of 12 submitted by SCaMP finalists, all of whom received mentorship from Scott. While there could only be one winner, we are really hoping that as many of these scripts as possible will be made into short films that the festival can showcase! Thanks to everyone who participated by submitting their screenplays!