Reel Shorts 2011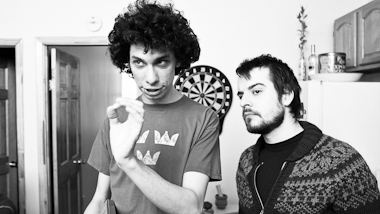 Lounge-singing darts champion Raymond finds his prayers are answered – literally – when he receives a mysterious package of love-inducing darts. The catch is that the one woman he loves – Kelly, a drummer in his band – is already in love with Ray's best friend Fozzie, the guitarist in the band. Romance is in the air in this bohemian charmer.  Won the Oscar for Best Live Action Short.
Director's Statement
As someone who has had more than his share of unrequited crushes on various girls throughout the years, I was eager to tell a story that celebrates unrequited love. But as someone who can now recognize his earlier crushes as – well, let's be honest — absurd exercises in delusion, I was also determined to critique the image of the lovestruck hero. I thought a dramatic simple triangle – boy likes girl, girl likes boy's best friend, boy's best friend doesn't like girl – would afford me the chance to explore these themes in a compelling and entertaining way. Throw in some magic, some laughs, a jazz score and a stylish B&W look inspired by 1950s jazz photography and French New Wave, and you have the kind of movie that I, for one, would love to see. So now I present God of Love with the nervous hope that it's the kind of movie that someone else might love to see, too.