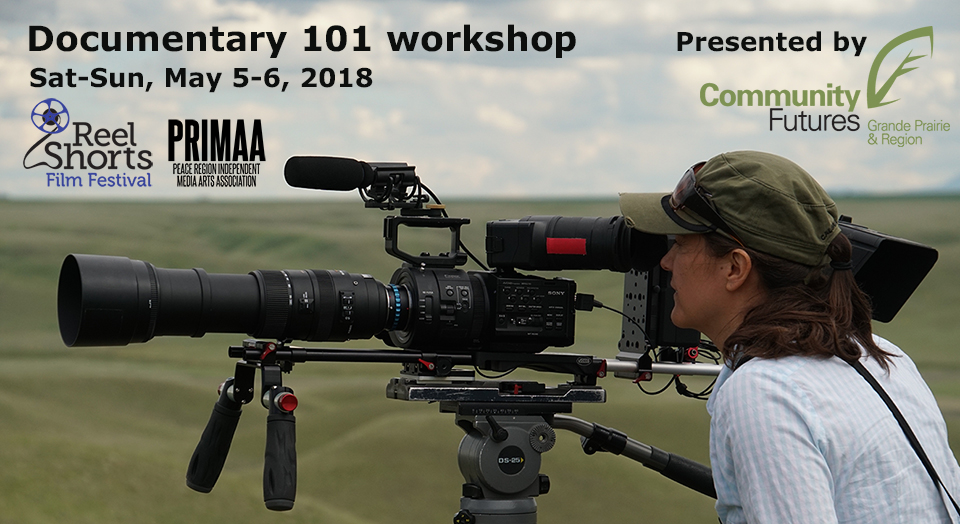 $129 ($99 students – must be 16 years of age or older)
10:00am – 5:00pm, Sat-Sun, May 5-6, 2018 (includes an hour lunch break)
Ernie Radbourne Pavilion, Muskoseepi Park (entrance at 102 St & 102 Ave)
Instructor: Dominique Keller
Register: purchase online by clicking on Schedule & Tickets
Presented by Community Futures Grande Prairie, the Documentary 101 workshop is part of an ongoing series of Filmmaker Insights workshops and panel discussions that the fest collaborates on with PRIMAA (Peace Region Independent Media Arts Association). It's great for beginners but has something for anyone who hasn't made their own documentary yet.
Got an idea for a documentary? Learn how to get it made as you work through the five steps to making a documentary:
Development: What is a good story? How to pitch your story to a broadcaster? What funding sources are there?
Preproduction: Should you incorporate? How to budget and plan production? Start promoting now or later?
Production: How to find your crew? What are releases? How to interview? What do you need to know about shooting ratios and data management?
Post-production: Why is it said that documentaries are often made in the edit suite?
Distribution/Release: Do you always need a broadcaster? What about film festivals and non-profit distribution centres?
After completing this workshop, you'll have the tools you need to take your documentary from conception to completion.