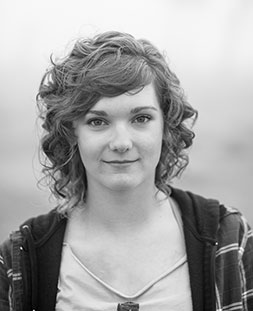 Devon Burbank is a Grade 12 student at St. Joseph Catholic High School. She started stage acting in school at the age of 13 when she played The Cowardly Lion in The Wizard of Oz. Acting was never a large interest of hers until she was in the Grande Prairie Live Theatre production of The Twelfth Night when she was 16. She had three small roles in the play, two of them being male (with intense facial hair), which is when her creative side burst out and introduced her to the art of theatrical makeup. She has acted in many stage productions including Mad Moose Mayhem in 2012, and has been a part of the makeup backstage team with Cats in 2013.
She was introduced to films in The Horizon Project directed by Scott Belyea. She acted as a survivor and was responsible for costume management along with Elise Schermerhorn. Devon became one of the founding five members of the Grande Prairie Youth Film Club. House Call, the short film she wrote, directed, and produced, was the first film produced by the GPYFC. The inspiration for HOUSE CALL occurred when one of her friends prank-called her one night and disguised his voice by deepening it. Then he asked her the cliché line from SAW, "Wanna play a game?" but all she could think about was why Batman was calling her cell phone at one in the morning. After he hung up, she decided to write it as a prank-call-gone-wrong 10-second video, but it exploded into the idea of what is now HOUSE CALL. She furiously typed the whole script that night in the memo pad on her phone.
Devon also was involved with another local film, Sophia, directed by Rory Mells. She played the Pig Lady, created the makeup and supplied the props, and helped out as much as possible with the effects and grip work.
Film has become a great part of Devon's life. Be it acting, directing, writing, makeup, or costume design, she loves it all, and hopes that one day she will make a career of it. But for now, she plans on graduating and taking a year off school to work and save up for college and university.
House Call will screen in the Criminal Minds film package at 8:30 pm on Saturday, May 4 and also in the North Peace Encore package at 4:15 pm on Sunday, May 5. Devon will participate in a Q&A afterwards.