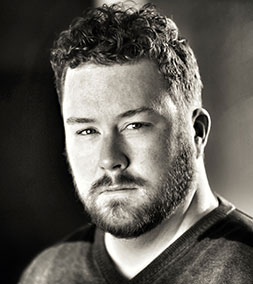 Scott, based in Vancouver but raised in Grande Prairie, has completed seven short films as writer, director and editor. His 2006 film Idaho, won various cinematography awards as well as "Best English Language Film of the Year" at the 2006 Young Cuts festival in Montreal.
Scott's horror shorts Soylent Red and Afterbirth garnered acclaim for their distinct visual style from filmmaker Robert Rodriguez, who called Soylent Red "genuinely disturbing." It won the Audience Choice award in the 2007 Bloodshots Filmmaking Challenge. In 2009, his film Ten Minutes Before Showtime won the festival's Best Film award. In 2011, his film Of the Dark (since re-edited and renamed Children of the Dark) wowed the festival's audiences and judge, winning the Audience Choice award as well as the grand prize for Best Film. The film went on to screen at many film festivals including the Toronto After Dark Film Festival where it received a glowing review from Greg Klymkiw who called it "a deeply moving post-apocalyptic thriller with superb production value, gorgeous photography and the most impressive mise-en-scene I've encountered in a genre short in some time."
In 2009, Scott teamed with Virmana Pictures to create Nomansland, a surreal tale of love lost that enjoyed a successful festival run including a "Best Film" win in Philadelphia, and a stop in the Mediterranean for Spain's illustrious Sitges festival of the fantastic.
In 2010, he was Editor and Post-Production Supervisor for Reel One's feature film Dear Mr. Gacy starring William Forsythe.
Scott has been a workshop leader in all 6 of the previous Reel Shorts Film Festivals. He developed the Youth Filmmaking Challenge workshop as a 2-day workshop for the 2009 festival (subsequently expanded to 2½ days) and led it for 4 years. During that time, 11 short films were created which can be viewed here. The popular workshop was retired after the 2012 festival and replaced with more ambitious training programs: the 2-week Shoot for Reel internship program in July 2012, and the 8-week Youth Film Mentorship Project which will lead up to the 2013 festival.
The 2007, 2008, and 2009 Reel Shorts Film Festivals each had two of Scott's short films in the program, while his 7th short (Children of the Dark) was an Official Selection of the 2012 festival. The 2013 festival will feature the world premiere of The Horizon Project in the Out of This World package on opening night. This is the short film he directed during the Shoot for Reel internship program.