Presenter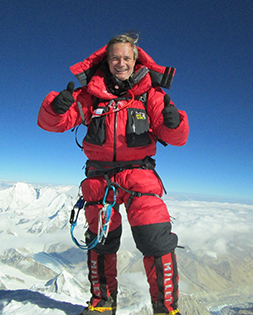 Horacio is a Civil Engineer, originally from Argentina, who became the Community Safety Director for the City of Grande Prairie in April 2013. He is an avid long distance runner and high altitude mountain climber who has set out to complete the Grand Slam of Mountaineering: climb the highest mountain of each continent (the Seven Summits) and reach by foot the North and South Poles.
In May 2013, Horacio reached the summit of Mt. Everest, the fifth of the highest Seven Summits (Everest, McKinley, Aconcagua, Elbrus, and Kilimanjaro) he has climbed. In April 2014, he completed the North Pole Marathon, a full marathon on ice with the finish line at the North Pole. Within the year, he will travel to Papua/New Guinea to climb the Carstensz Pyramid. Then the final trip to complete the Grand Slam of Mountaineering will be to Antarctica to climb Mount Vinson and then walk 140 km to the geographic South Pole. With that, he will join only a handful of people who have completed the Grand Slam of Mountaineering. To follow his adventures, check out his website at www.7Summits2Poles.com.
Horacio's presentation is part of the Antarctica & the Grand Slam of Mountaineering package at 7:00 pm on Tues, May 6 at Grande Prairie Live Theatre. After the screening of the feature documentary Antarctica: A Year on Ice and an intermission, he will give a 35-minute presentation The Grand Slam of Mountaineering with pictures from the five summits he's already conquered as well as his recent North Pole Marathon followed by a 15-minute Q&A.