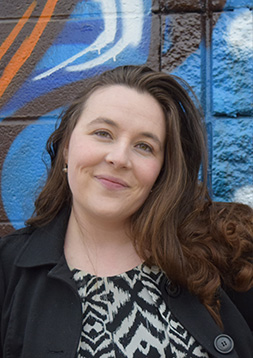 Darryl Haugen was born and raised in the Peace Country area and moved to Grande Prairie when she was 13 years old. Darryl knew from a young age that she wanted to work in film.
In 2016, Darryl saw a poster at the library about the Frantic48 Filmmaking Challenge put on by PRIMAA (Peace Region Independent Media Arts Association). She signed up to write, shoot, and edit a short film in two days. She and her family rented a camcorder from the college and the result was GAME DAY which screened as part of the Frantic48 film package at the Reel Shorts Film Festival.
Darryl has been attending events and workshops held by the Reel Shorts Film Festival and PRIMAA ever since to continue networking and gaining more skills. Over the years, her son Jakem has developed an interest in filmmaking as well. They have attended workshops together and have made more short films through events such as Noirfoot Productions and Reel Youth.
Darryl is now the Vice President of the Reel Shorts Film Society and has completed the video production courses at GPRC (Grande Prairie Regional College). She recently completed her first funded documentary, Small Town Strength, which has its world premiere in the Peace Region Shorts package.
Darryl will be available on May 6 for Virtual Filmmaker Class Visits to Grade 6-12 classes.