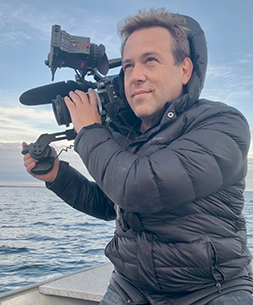 Frederick Kroetsch is an Edmonton filmmaker who has created dozens of eclectic projects including the TV series Queen of the Oil Patch and the documentary Last of the Fur Traders which screened at the 2019 Reel Shorts Film Festival.
Frederick's latest film, Blind Ambition: The Wop May Story, won the Audience Choice Award and the Alberta Short Film Award for Best Short Documentary at the 2021 Edmonton International Film Festival. It screens in the On the Job film package as well as the At Risk (Grade 9-12 Social Studies) film package.
In 2021, Frederick directed the new TV series Dr. Savanna: Wild Rose Vet. He field-produced on The Curse of Oak Island, and, with Neil Grahn, won the Rosie Award for Best Screenwriter (Unscripted Under 30 Minutes) for Queen of the Oil Patch – "Lost Sisters". He also won the Edmonton Artists' Trust Fund.
Frederick is currently an Executive Producer on a documentary TV series for NBC/Universal, and is developing numerous projects.