The second film in this season's GPLT Movie Series is The Intouchables, an irreverent, uplifting French comedy (English subtitles) about the friendship between Philippe, a quadriplegic millionaire, and Driss, a young offender of Senegalese descent who is hired as Philippe's live-in caregiver. Based on a true story and propelled by Omar Sy's charismatic performance as Driss, this culture-clash comedy has become one of the highest grossing non-English language films of all time. Nominated for a Golden Globe award and winner of multiple other awards, it is a delight.

The idea for the film dates back to 2003 when Writer/Directors Olivier Nakache and Eric Toledano watched À la vie, à  la mort, a documentary about the relationship between Philippe Pozzo di Borgo, who was left a quadriplegic after a paragliding accident, and Abdel, an Algeria-born young man from the projects who was hired to take care of him. In the production notes provided by Alliance Films, Toledano says they were attracted to how much humor there was in this incredible story. When they arranged to meet Philippe Pozzo di Borgo before starting work on the screenplay, Philippe told them, "If you make this film, it has to be funny because this story has to be treated with humor." But he also added that, "If I hadn't met Abdel, I'd be dead." As Nakache and Toledano came to realize, "the two levels of French society, represented by Philippe and Abdel, create new relationships and feelings when they come into collision. These two men – one at a physical disadvantage, one at a socioeconomic disadvantage – have a sort of strange and unexpected symmetry that makes a deep connection possible."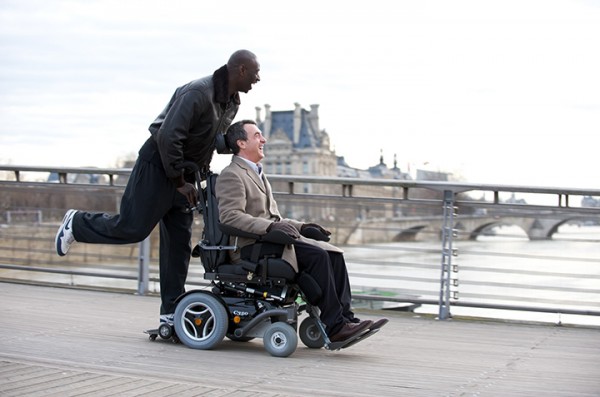 Because the directors had collaborated with Omar Sy (Driss) since their second short film in 2001, they showed him the documentary to see if it interested him because they wouldn't have attempted it without him. Although the character of Driss was a combination of Omar, who they knew well, and Abdel, who they met for the film, they felt that the authenticity of the story relied far more on the "sense of humor, irreverence, frankness and real generosity" shared by Omar/Driss and Abdel than the particulars of their backgrounds and lives.
Omar grew up in the projects which gave him a unique understanding of the character of Driss. Toledano noted that "many attempts to portray urban youth often result in caricature" but "Omar was our guarantee of authenticity from the clothing down to the most subtle local slang." Nakache added that "I don't think we have betrayed Philippe's story even if we have necessarily had to adapt certain parts of it."
For those who want the real story, Philippe Pozzo di Borgo wrote a book called Le Second Souffle which is naturally in French. A Second Wind: The True Story That Inspired the Motion Picture The Intouchables is the English version of the book. When François Cluzet, the actor who plays Philippe, read the book, he learned that Philippe did not consider living in a wheelchair to be his greatest handicap, but rather "living without the woman he loved and who died." Cluzet realized, "That's what I had to live out: the vulnerability of a man orphaned by love."
Tickets are $10 ($5 for students) for this 14A-rated film. They are available at the door for the 7:00 pm Sunday screening but the line-up can be avoided by purchasing in advance at the GPLT Box Office or online.