Monday – the start of Week 2 of Shoot for Reel and Day 5 of shooting. Amazingly, all the actors came back for more scenes in a black bus on a hot summer day. Their dedication astounds me. I know they're looking forward to seeing the bus get bloodied up in its second transformation. From an ordinary yellow school bus, it became a black post-apocalyptic transport bus last week. Today, it becomes a bloody disaster scene.
But first thing in the morning, the bus looks normal on the inside (except for the bars on the windows) as Director Scott Belyea talks to the actors before the first scene.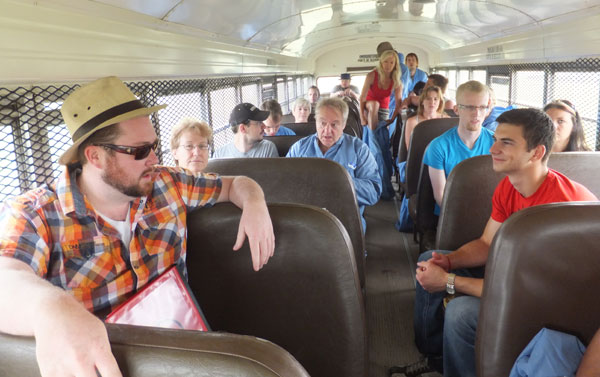 Another sunny day as Scott talks with DOP Scooter Corkle and Script Supervisor (and intern) Mary Jo Van Order at the same County road location where shooting ended on Saturday.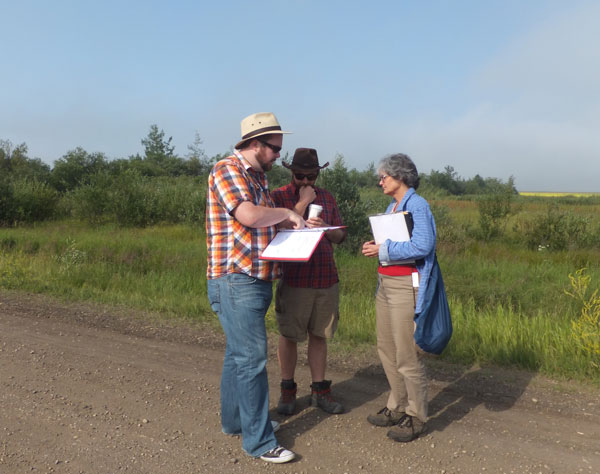 Between shots, a fan airs out the bus and cools it down for cast and crew before the next shot.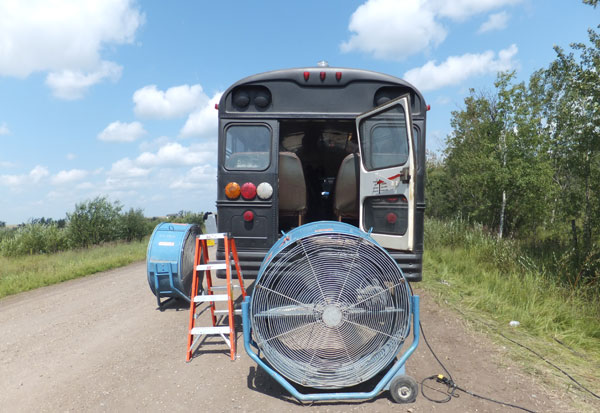 Survivor actor Tenille Millsap enjoys a moment in front of the fan before getting back on the bus for the next shot.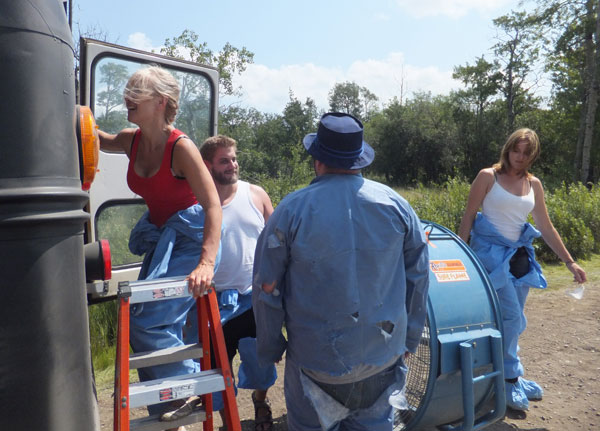 Dustin Shaffer with the blood and mucus that Makeup Artist Charity Hudak has prepared.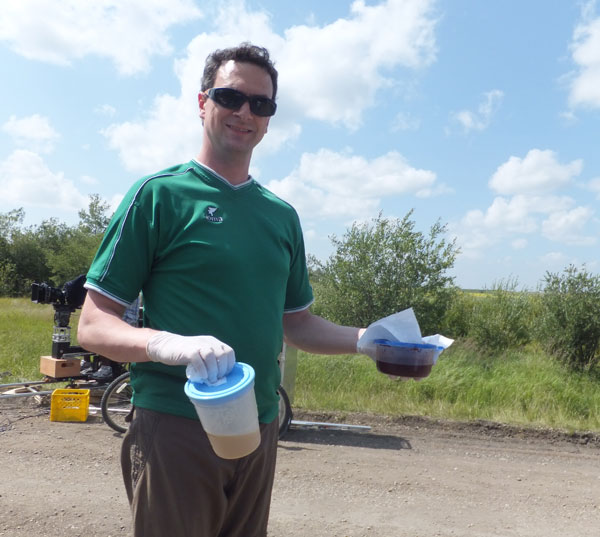 Production Assistant Tom Haiworonsky already has blood on his arm as intern Rebeka Binder walks past. Charity has warned that the fake blood recipe she's used will stain clothes.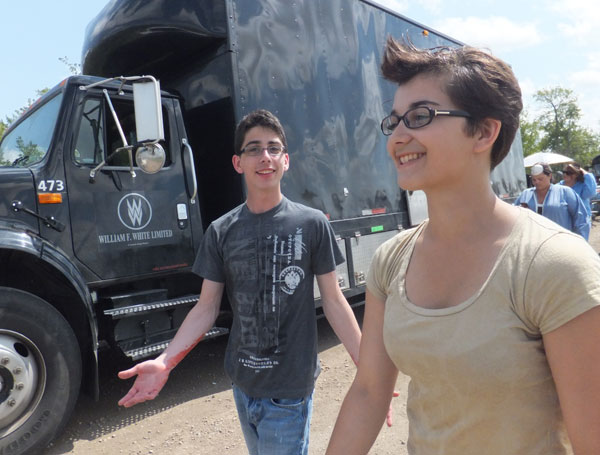 Art Director Joelle Lawton talks to Survivor Actor Kelly Thomas behind the Visa Truck Rentals cargo van we used for hauling costumes and props during the shoot. Kelly's waiting for her turn to have blood and mucus spattered all over her.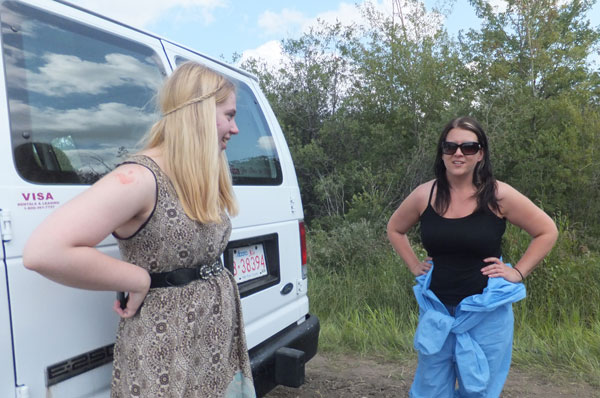 Survivor Actor Morgan Dettling prepares for Charity's blood splats while Making-of Director (and Associate Producer) Mike Bourree records it. Jessica Schultz still hasn't opened her eyes in case there's more blood coming her way.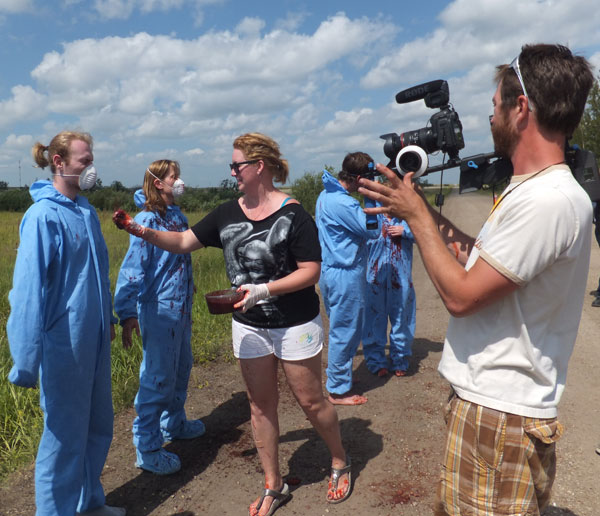 Tennyson D'Onofrio (Son) seems to be getting the worst of it.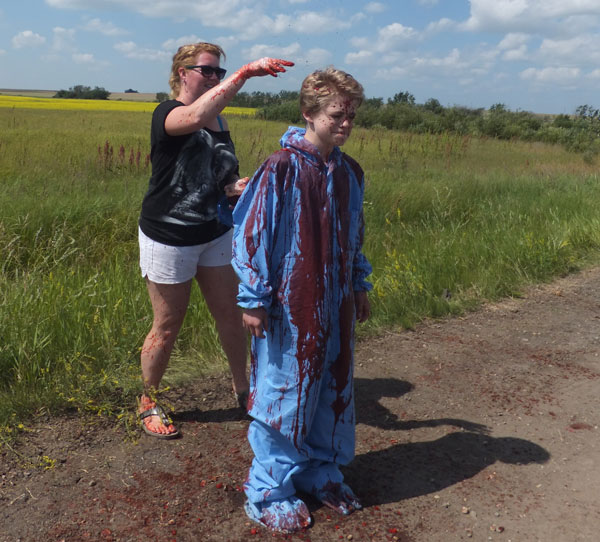 Survivor Actors Seanna Quinn and Jannon Farnsworth look forward to nine more hours of shooting before they can wash the sticky make-up off.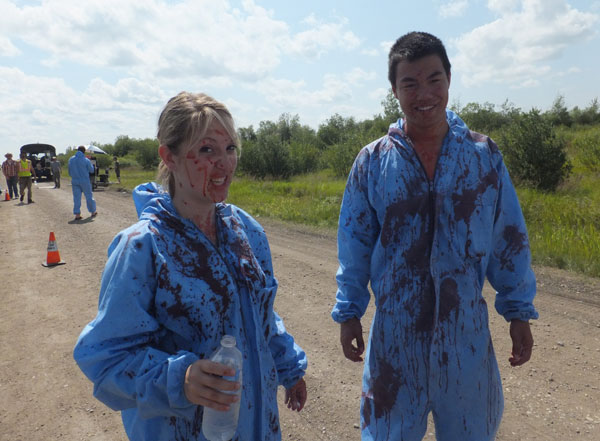 We were very fortunate to have Ernie Thatchuk agree to play the President's chauffeur and to drive his own New Yorker for the role. Dustin Shaffer (President) carries the gas mask he had to wear for this scene.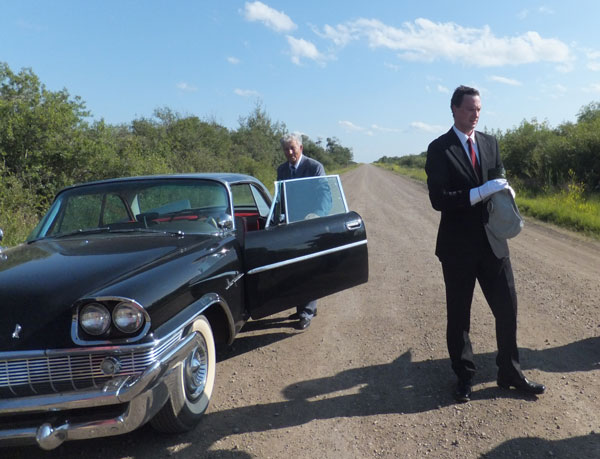 Dustin in his gas mask.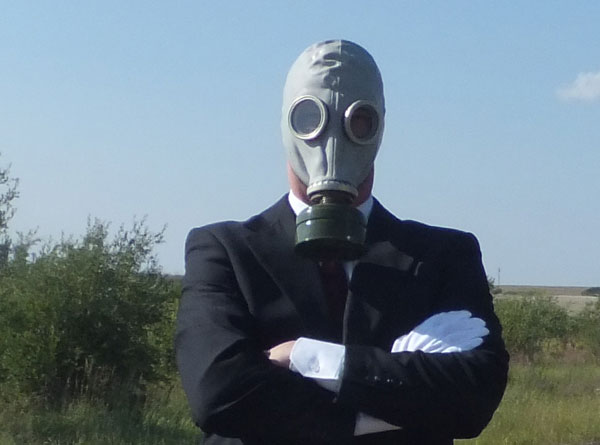 We were also very fortunate to have the use of Jay Gunnarson's Hummer which his daughter Danica drove. Her puppy Kiki guards the vehicle during a break in shooting.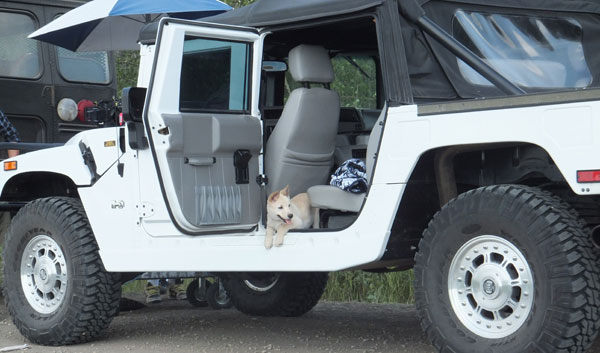 Lloyd Piehl (Sergeant) waits for his cue for action.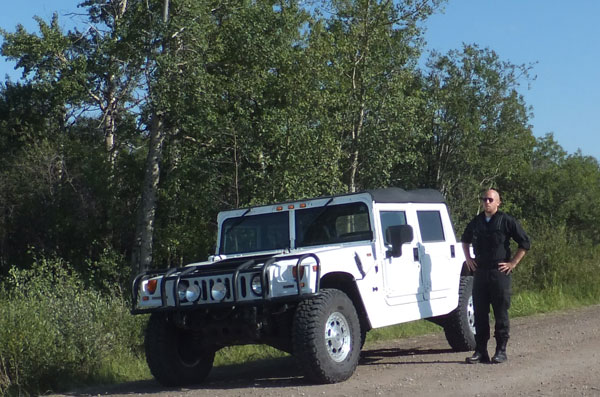 Patrick Gerber (Soldier) in the uniform provided by March Forth.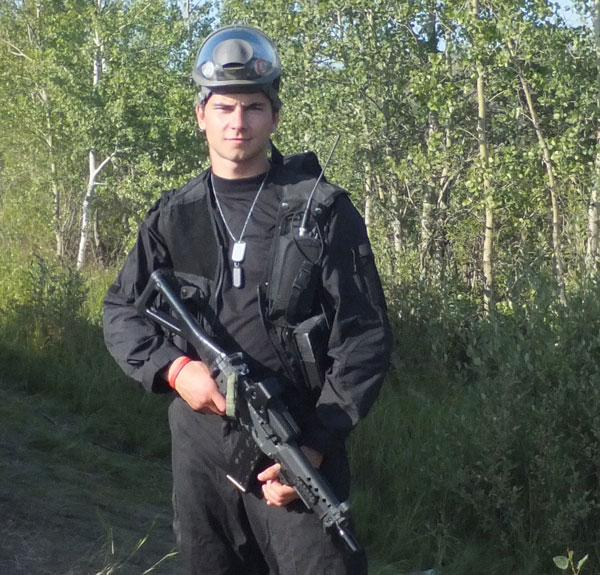 Finally, it is the bus's turn for Charity's makeover skills.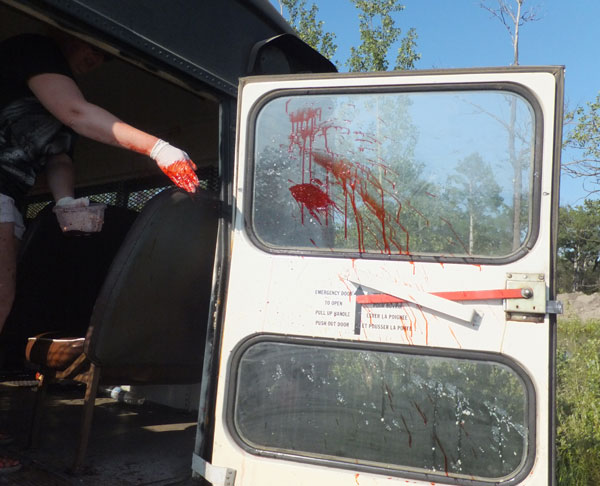 Danica (Hummer driver) holds Kiki as Colin Galloway (Soldier) playfully tugs at the puppy's ear, but Kiki was too tuckered out to play after a long day on set.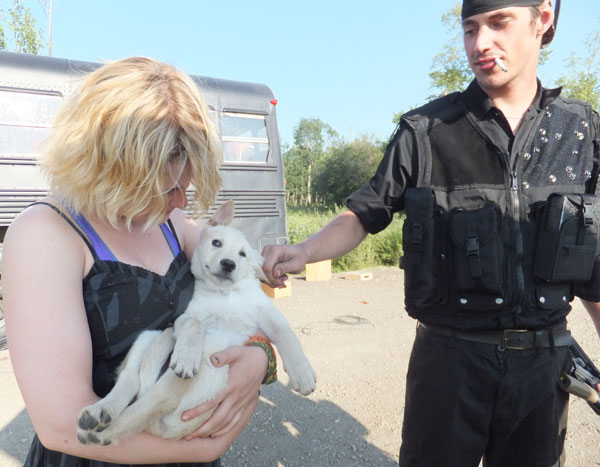 We had to stop shooting and let traffic go through on occasion, but knew we were in the country when a horse and rider came through as well.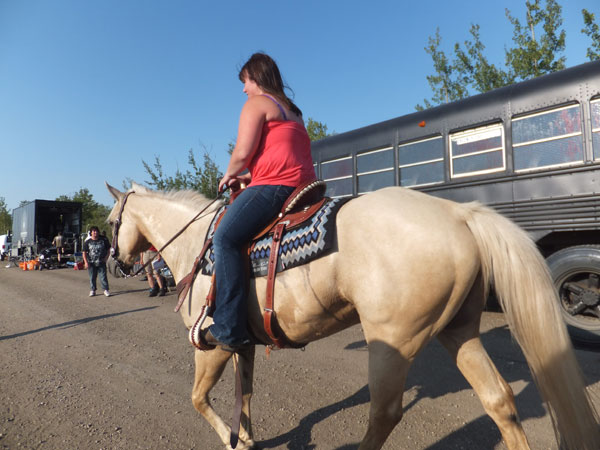 With a fresh spattering of bloody make-up, Lorraine Cook (Hardened Survivor) is ready for the final few hours of shooting for the Survivors on the bus. She is proud that she can now add "barfing on cue" to her actor's resume.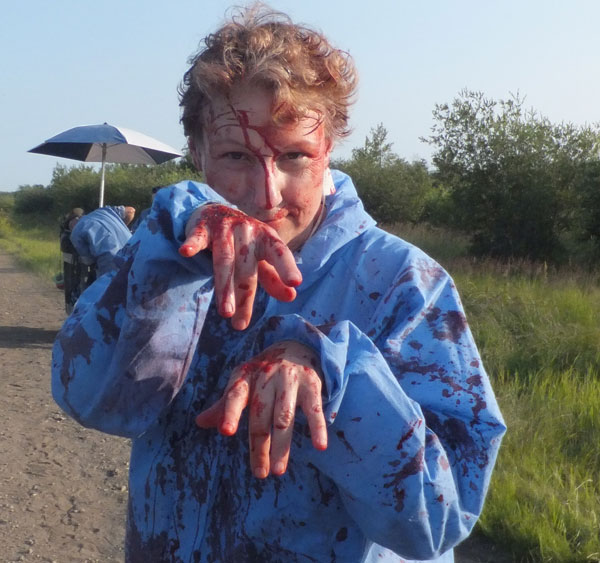 Brandon Carpenter (Suspicious Survivor) got an extra big helping of the red stuff thrown at him.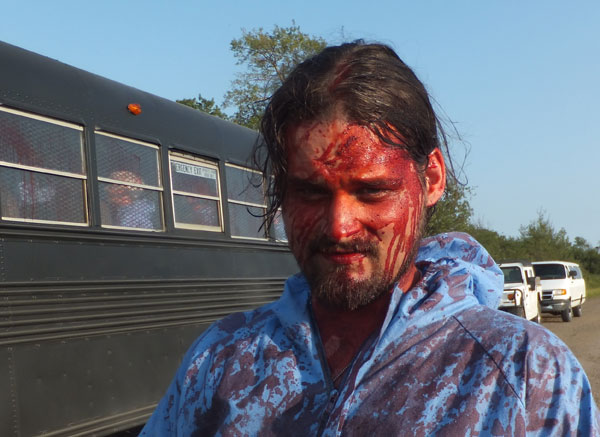 Mike Bouree put on a Survivor costume to protect his clothes from the blood dripping from the ceiling as he captures footage of the carnage on the bus for his behind-the-scenes Making-of video.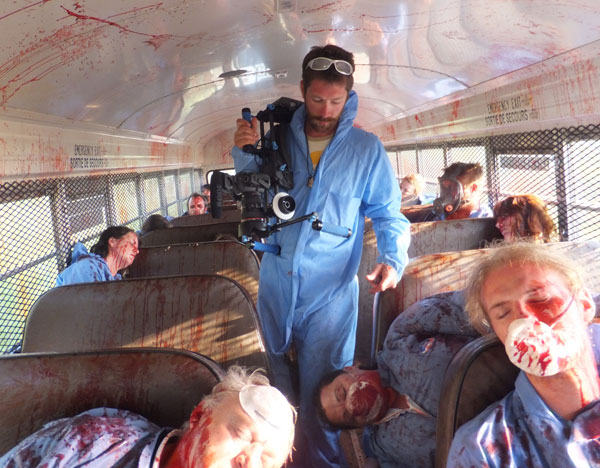 While it's the last day for the Survivor actors, the Soldiers and others will be back again tomorrow to wrap up shooting with the much anticipated night scenes with a flamethrower.