The interns spent Thursday and Friday (Days 10 and 11) in the GPRC Mac lab editing footage from the first two days of shooting.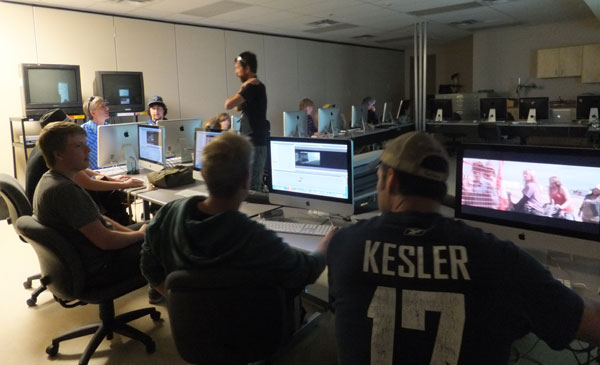 Director Scott Belyea demonstrates his editing techniques to Chris Beauchamp (left) and Mike Bourree (right). The screen in the background shows what's on his monitor.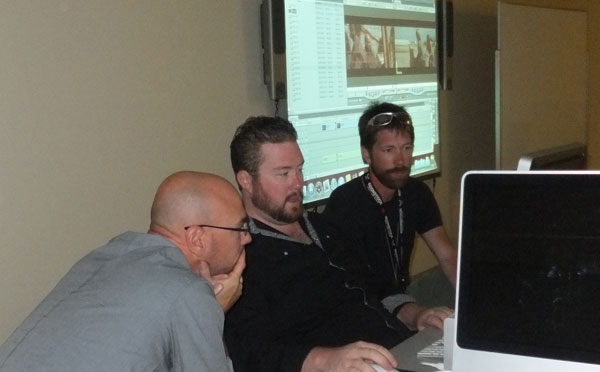 In the meantime, I took 7 packages of FAVA (Film and Video Arts Society Alberta) gear to Greyhound to ship back to them in Edmonton with a big thanks for the gear and support!
Friday, Day 11 ends with the wrap party upstairs at Mr. Mikes Steakhouse & Bar.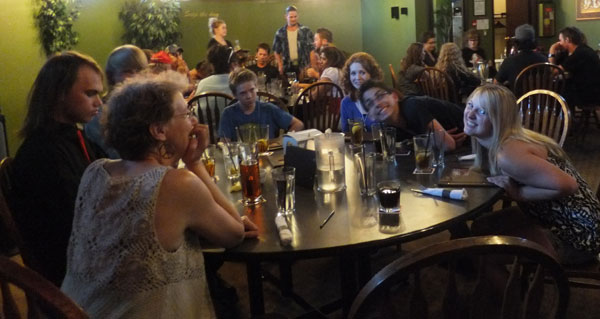 If you read about the bus saga in my blog about Day 2, you may be interested to know what happened to the blood-filled black bus, of which I was the proud owner. The day after the party, Mike and Scott pressure-washed the inside until all the sticky fake blood became a pink puddle under the bus. Then they drove it to my girlfriend's property in the country, the same property where the bus had apparently met its demise in our movie, and they parked it there until we figured out what to do with it. Perhaps because of all the hours he spent painting the bus, barring the windows, and cleaning the bus, Mike must have figured he put enough sweat equity into the bus that he should buy it. Cam White (Gruff Survivor) must have figured that he put enough sweat into the bus during shooting that he should buy it too. Together, they became the proud owners on August 19. After a full life as a school bus and a short life as a movie star, the bus will now be their touring rock band bus. My only condition of sale was that they take me for a ride in it sometime because I never got a chance during production. I was even a little sad to see it go despite all the stress it caused me. At least I'll be able to visit.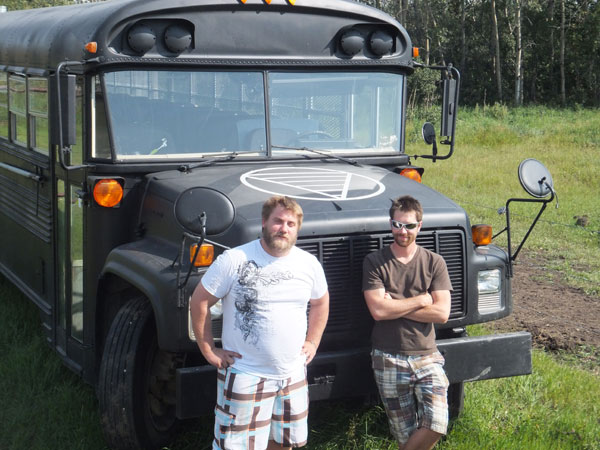 So what has resulted from Shoot for Reel, this innovative collaboration between Ricebrain Media, Grande Prairie Regional College, and the festival? A cool film, I think. It's not finished post-production so nobody's seen it yet, but I think it will be. But what about the other goal – providing 2-week internship positions for up to 10 aspiring and emerging Peace Region filmmakers aged 16 and over, thus helping to grow a filmmaking community in this region? That goal has wildly succeeded already.
During Shoot for Reel, intern Chillton Alstad and his friend Ian Anderson set up a Facebook group called Grande Prairie Youth Film Club. It already has 55 members and regular meetings happening at two of the high schools in town, but even more exciting is that its members are already in post-production on their first film. Devon Burbank, who was a crew member (Costumes) and actor (Survivor) on our project, directed Just Starting Out co-starring Chillton and herself. Here's the trailer for it.

Rory Mells, another intern, is in pre-production on a short film. And Mike Bourree organized several meetings of Shoot for Reel participants and others for the purpose of starting a non-profit film cooperative. The application for the formation of PRIMAA (Peace Region Independent Media Arts Association) was sent to the government and is awaiting approval.
I think Shoot for Reel was able to do in two weeks what the film festival has been trying to do in six years, but it took the film festival that long to build up the awareness, connections, and credibility for Shoot for Reel to be the success it was. I can't wait to see the films that will be created as a result of the incredible mentoring and training provided by Scott Belyea, Scooter Corkle, Blair Dykes, Matthew Reed, Ryan Skeete, and Dave Rice, and the relationships formed by everyone who worked on the project. Exciting times!