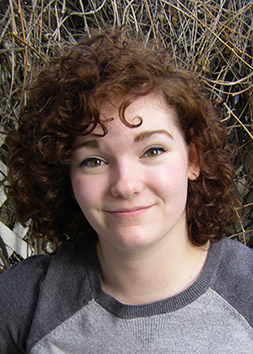 Devon Burbank is a 19-year-old Grande Prairie filmmaker best known for her work as a theatrical makeup artist, writer, and director.
Devon began her filmmaking career in July 2012 as an intern and actor in the festival-produced The Horizon Project directed by Scott Belyea. She then wrote, produced, and directed House Call. She was the makeup artist on the festival-produced HB and she appeared in Sophia directed by Rory Mells, in addition to being responsible for make-up, props, and costumes on that film. All four films screened at the 2013 festival.
Devon's second short film, The Visitor, screened at the 2014 festival. She was also part of the team that won the juried Best Film Award for the Frantic 48 in 2014. She also won Best Youth Screenplay in the Youth Screenplay Competition with her script "Julian."
Devon was the Hair and Makeup Department Head as well as Costumer for the set of 12 Arnie the Viking webisode commercials directed by Gordie Haakstad and produced by nine10 for Hansen Ford Lincoln, four of which premiered at the 2014 festival. With the experience she has gained from participating in both theatre and film productions over the last few years, she has decided to make this her career and will leave Grande Prairie in June to start a one-year Global Makeup Program at Blanche Macdonald in Vancouver.
Two of Devon's most recent short films will screen in this year's fest: My Odd Disorder and Julian. My Odd Disorder world premiered in the Reel Shorts Sneak Preview package on Sep 28, 2014 and has gone on to screen at films festivals around the world. It won Best Foreign Comedy at the Itria Valley Film Festival in Apulia, Italy in 2014. Along with actor Mike Evans, she will participate in a Q&A after it screens in the Identity Paradox film package at 6:00 pm on Thur, May 7.
Along with actor Brendan Wyant and actor/editor Mike Evans, Devon will participate in a Q&A after Julian world premieres in the Love is Blind film package at 6:00 pm on Tues, May 5 as well as at the second screening of that package at 4:00 pm on Fri, May 8. Both MY ODD DISORDER and JULIAN can also be seen in the Peace Region Encore package at 6:00 pm on Sat, May 9 when the award for Best Peace Region Short will be presented by Decca Industries.