Congratulations to the award winners of the 2014 Reel Shorts Film Festival!
Jury members Scott Belyea, Meaghan Brander, and Gordie Haakstad selected the following winners from the 15 animated shorts, 15 documentary shorts, and 57 live action shorts that were eligible for juried awards:
The jury members also selected the following award winner from 11 Frantic48 films:
Frantic48 Best Film (award presented by Community Futures) – The C Word by the Neopolitan Unicorn team led by Mike Evans
Gordie Haakstad determined the winner of the Youth Screenplay Competition from the scripts submitted by Peace Region youth screenwriters aged 16-24 after developing their scripts over a four-week period with mentor Scott Belyea:
Audience members selected the following winners:
Frantic48 Audience Choice Award (award presented by Community Futures) – Learning to Ride by the Dark White + Fowl team led by Michael Bourree
Audience Choice Award – Fool's Day, a 19-minute film directed by Cody Blue Snider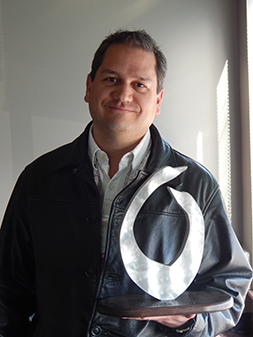 Grande Prairie sculptor Grant Berg designed the award that was made by Decca Industries in Clairmont with a base made by D.R. Sales Woodworking in Grande Prairie, so in every respect it's a creation of the Peace Region like the film festival itself. Grant is pictured here holding an award before it was presented. The design reflects the fact that the festival takes place in Grande Prairie which is known as the Swan City because trumpeter swans return to the city and surrounding area every spring to nest (see also Swan Festival), and its flame shape symbolizes the passion of the volunteers who create the festival every year and the filmmakers whose work we celebrate.
The Frantic48 winning films screened in the Frantic48 & Youth Screenplay Awards package which included a table read of Julian, Devon Burbank's winning screenplay.
The Best of the Fest package included the juried award winners for Best Animated Short, Best Documentary Short, and Best Live Action Short, as well as the Audience Choice Award winner and the following audience favorites:
Thanks to Festival Presenter Hansen Ford Lincoln and all of the funders and sponsors who made the fest possible, and thanks to everyone who came out and made #8 the biggest and best one yet!