"We love short shorts."  It was fest team member Adrian Tanasichuk who came up with this catchy theme for our 2012 festival.  And it was fest team member, photographer and designer Chris Beauchamp of Beauchamp Creative who came up with the visual concept and poster design.  Assisted on the photo shoot by fest team member Laura Beauchamp, it is "cheeky", fun, and simply brilliant, and I have no idea how he'll ever be able to top it.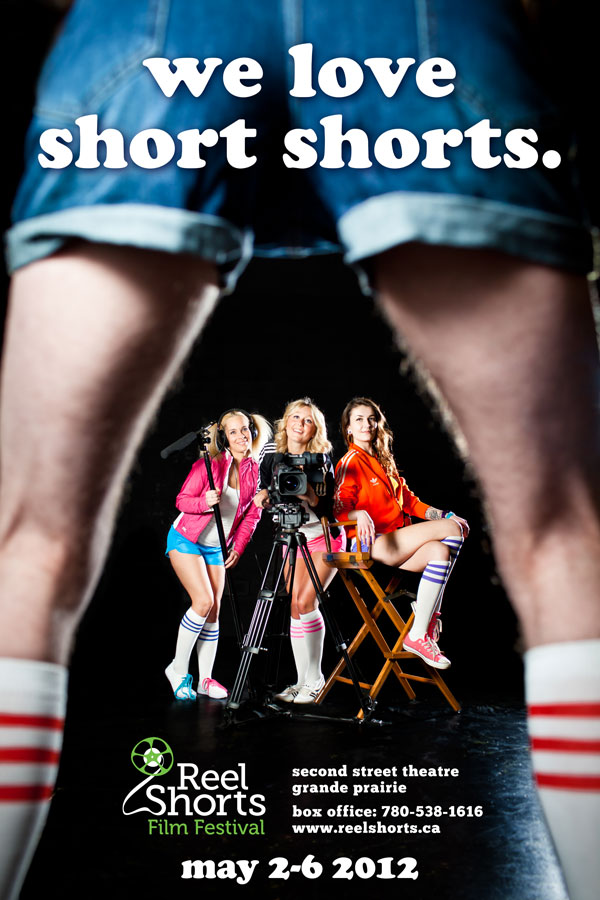 It was posted on our Facebook page on Monday, and had its first public unveiling at the Mighty Peace Teachers Convention on Thursday.  With 1800 teachers in attendance, I had lots of opportunity to talk about everything we offer in our school program – 5 film packages with one each for Grades 2-3, 4-6, junior high, high school English/French, and high school Social Studies, 3 Youth Filmmaking Challenge workshops (we have some openings in Alpha), and class visits by Scott Belyea, Scooter Corkle, Michelle Steffes, and others yet to be confirmed.
With a record number of submissions this year (250 from 34 countries) and about 600 films we've considered from other sources (film festivals, distributors, reviews, etc), our program of films will jump from 62 last year to close to 100 this year.  It'll be a great line-up of films!