Congratulations to the award winners of the 2019 Reel Shorts Film Festival! These films were showcased in the Best of the Fest package presented by Big Country and the Sandman Hotel. For a pdf of the 48-page program, click here.
Juried Awards
Jury members (above from left) Evan DeRushie from Toronto, Scott Belyea from Vancouver, and Frederick Kroetsch from Edmonton selected the following winners from the 60 films that were eligible for juried awards: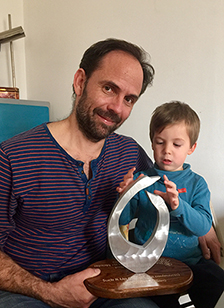 Best Animated Short
The Driver is Red, a 15-minute film from the United States written, produced, directed, and animated by Randall Christopher
Best Documentary Short
The Day Don Died, a 14-minute film from Canada produced and directed by Steve J. Adams and Sean Horlor
Best Live Action 15+ Minutes
Suck It Up, a 19-minute film from France directed by Jan Sitta – see photo at right
Best Live Action Under 15 Minutes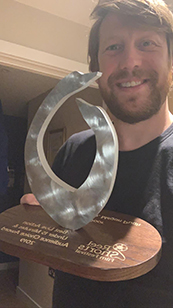 The Blue Door, a 9-minute film from the UK directed by Paul Taylor – see photo of Director Paul Taylor at left and Writers Ben Clark and Megan Pugh (Producer) below right
Audience Choice Awards
For the first time since our festival became competitive in 2014, the audience picked the same film that the judges picked.
Audience Choice Award
The Blue Door, a 9-minute film from the UK directed by Paul Taylor – see photo of Director Paul Taylor above and Writers Ben Clark and Megan Pugh (Producer) at right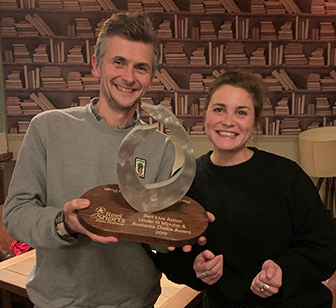 Youth Audience Choice Award
All in Good Time, a 15-minute film from Ireland produced and directed by Bonnie Dempsey
Frantic48 Winners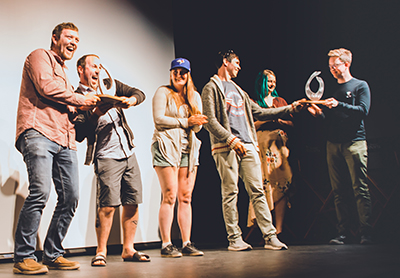 Frantic48 jury members Chris Beauchamp, Ryan Dalgleish, and Jeff Erbach presented the Best Film and Audience Choice Awards to Chad Corno and Jesse McCallum for Game Set Match which they wrote, produced, and directed. Celebrating with their Eagle Vision Video Team members are (from left) Ben Haab, Chad Corno, Kaymia Laurine, Jesse McCallum, Leanne Bausman, and David Ross.
All Frantic48 teams had to write, produce, edit, and turn in a 2-6 minute short film in 48 hours that incorporated the same prop (a watch) and the same line of dialogue ("who are you"), but each team had a different genre/sub-genre.
Our Awards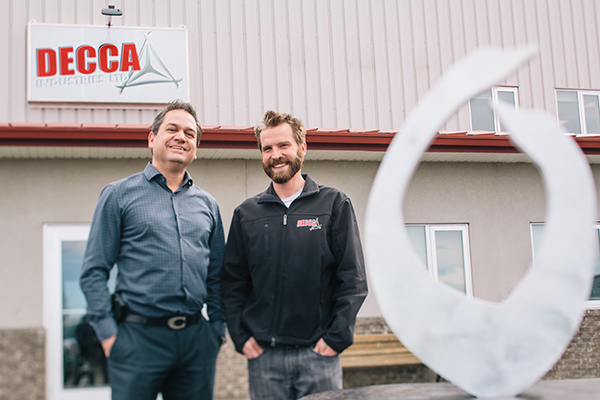 Grande Prairie sculptor Grant Berg (left) of Grant Berg Gallery designed the award that winners receive. On the right is Mack McDonald of Decca Industries in Clairmont who turned Grant's vision into reality.
The wood bases are made by D.R. Sales Woodworking in Grande Prairie which then get engraved by Sportswear Plus / Alberta Trophy, so in every respect it's a creation of the Peace Region like the film festival itself.
The design reflects the fact that the festival takes place in Grande Prairie which is known as the Swan City because trumpeter swans return to the city and surrounding area every spring to nest, and its flame shape symbolizes the passion of the people who put on the festival every year and the filmmakers whose work we celebrate. See below to watch the video of how the award is cut on Decca's water jet table.