Time Warp and Sneak Preview packages this weekend!
Posted by Terry on September 24, 2014
As part of Alberta Culture Days programming in the city, we are happy to present the following FREE screenings:
Friday, Sep 26 @ 7:00 pm
L106 (Collins Recital Hall), GPRC (Grande Prairie Regional College)
Time Warp, a unique package of films featuring time travelling misadventures, mind-twisting and hilarious scenarios, dystopian futures, and a western with a bizarre twist. Rated 14+ (Crude Coarse Language, Violence, Substance Abuse), this package of six films is not appropriate for pre-teens. See trailers below and click on the film titles for more info!
Sunday, Sep 28 @ 7:00 pm
GPLT (Grande Prairie Live Theatre)
Sneak Preview of the 2015 Fest, a full evening of entertainment that includes the Time Warp package which is rated 14+ (Crude Coarse Language, Violence, Substance Abuse) – see trailers below – and the world premiere of My Odd Disorder, a Grande Prairie film written, produced, and directed by Devon Burbank who also co-stars in the film. There will also be an award presentation to the winner of SCaMP (Screenplay Competition and Mentorship Program) and a table-read performance of the winning screenplay following an intermission.
Recoil – *Canadian premiere*

Recursion – *Canadian premiere*

The Developer – *Alberta premiere*

I'm You, Dickhead – *Alberta premiere*
A big thank-you to Chris Beauchamp of nine10 for designing the poster for Time Warp …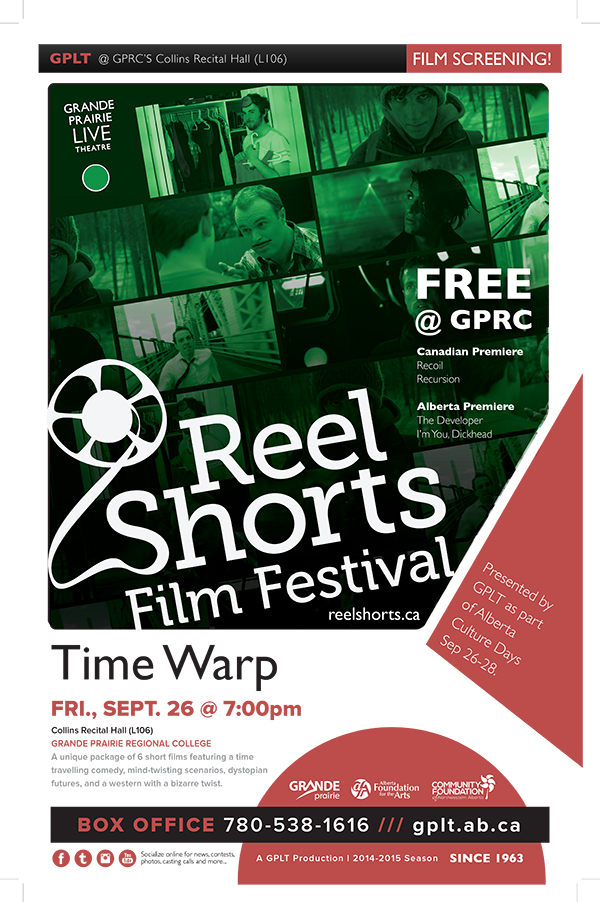 and the poster for the Sneak Preview!